The final payrolls report for 2019 came in a little weaker than expected at 145,000 jobs added. The unemployment rate remained at 3.5%. This caps the 9th year in a row that the US has added over 2 million workers to payrolls. Workers are benefiting from a tighter labor market with real incomes up 2.9% for the year. Additionally pay increases have accrued more to lower paid workers who have suffered with stagnant wages over the past decade. A more balanced workforce is a positive for the health of the overall economy.
Manufacturing continues to be the weak point in the US economy. A strong dollar, weakness in Europe, US trade policy uncertainty, issues with recertifying the Boeing 737 Max and the GM strike have all contributed to a sluggish environment for growth. While the ISM Manufacturing Index has shown contraction since August 2019, the IHS Markit Manufacturing PMI remains in growth territory. The Markit index is more broad based with 800 respondents versus 300 for the ISM survey and tends to be more domestically focused. This supports our thesis that much of the weakness is coming from overseas. We are cautiously optimistic that the sector will improve in 2020 as many of these impediments continue to subside.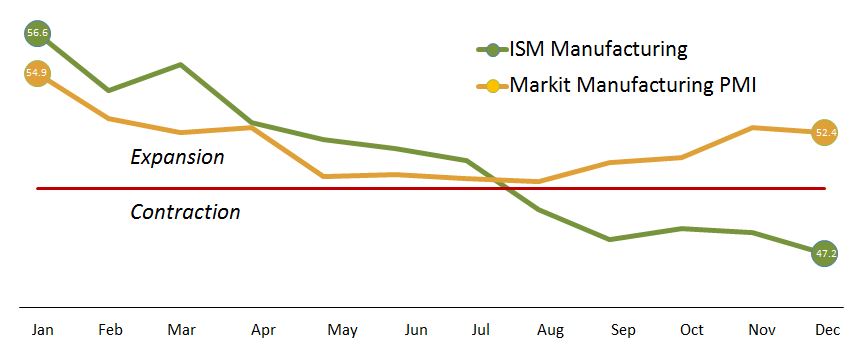 Bottom Line: The US economy is a solid footing for growth going into 2020. Many of the risks that restricted business spending have abated and should lead to more capital investment going forward. Our preference would be to see more fiscal spending to ease the burden on monetary policy to support growth. We do not foresee this happening in a presidential election year. The Federal Reserve is expected to hold interest rates steady through this year even if inflation accelerates. Interest rates should begin to rise as economic growth prospects stabilize.