Market Summary:  The stock market closed the year on a euphoric high, propelled by a tentative truce in the trade war between the US and China.  As measured by the benchmark S&P 500, stocks gained 9.1% in the fourth quarter.  This padded the 2019 total return for stocks to 31.5%, their best year since 2013.  As has been the norm, the top performing sector was technology, gaining 50%.  Technology accounted for 32% of the Index's 2019 gain.
The third quarter's "great rotation" away from momentum names such as Facebook, Apple, Netflix, Microsoft, Amazon and Google (aka FANG) turned out to be short-lived.  The group reversed their mid-year slide and returned 16.1% in the fourth quarter, bringing their 2019 gain to 52.4%.  Excluding these six stocks (now comprising an outsized 17.8% of the Index) the S&P 500 gained 27.1%.  In this light it was a good year for active stock pickers, with the average U.S. equity mutual fund returning 28.3%.
Interest rates rose in the fourth quarter, largely as a result of firming growth prospects in the US and EU.  The 10-year Treasury yield ended 2019 at 1.92%, a marked increased from its near-historic low of only 1.46% in September.  The corresponding decline in bond prices offset the return from income, and the benchmark Barclays Government/Credit Index was flat in the fourth quarter.  The year was still exceptional for bondholders, with the Index posting a total return of 9.7%.  A gluttonous appetite for interest rate risk was needed to fully reap the gain, though, as minuscule yields have inflated the Index's duration to over 7 years (meaning every 1% increase in rates results in a 7% principal loss).  For comparison purposes, the Intermediate Index has a moderate duration of 4 years and delivered 6.8% performance in 2019.
Economic Forecast:  While 2018 was a year of 2.9% GDP growth and interest rates in excess of 3%, in 2019 we reverted to the economic environment that has endured since the Financial Crisis – a combination of 2% economic growth, 2% interest rates and 2% inflation.  Looking to 2020, recession risk has declined along with the tariffs and the yield curve has thankfully returned to an upward slope.  Barring a meaningful geopolitical shock (e.g. Iran, Korea) we do not see a reason that 2020 will deviate from the familiar "2-2-2" script.
The economy essentially rests on three legs – the consumer sector, manufacturing and the trio of government spending, investment and trade.  Overall, conditions have improved a bit since last quarter's discussion.  Most importantly, the consumer remains in good health.  Unemployment is running at only 3.5%, wages are up 2.9% YOY and debt service levels are at their lowest in forty years.  Largely due to the trade war, the manufacturing sector is still in a funk, but the recent détente between the US and China should prevent further deterioration.  The remaining factors are quite supportive for economic growth, as trillion dollar government deficits are virtually locked in, business investment should surprise to the upside as confidence improves, and the trade deficit has declined to a three-year low.
Fixed Income Strategy:  It is not surprising that our conservative investment mandate made it impossible to capture all of the 9.7% return of the Barclay's G/C Index.  However, in spite of our intolerance for interest rate risk we had a good year versus the more relevant Intermediate Index.  This was led by our decision to overweight corporate bond exposure.
Looking ahead, it appears that the 2019 compression in credit spreads has run its course.  Meanwhile, credit quality has become an increasing concern.  Of the $7.1 trillion in US non-financial corporate debt, $2.9 trillion, or 41%, is now rated BBB – only one grade above "junk".  This gives us pause.  Once the specter of recession eventually emerges, credit downgrades will almost certainly increase.  We have no leniency for dodgy credits, and new purchases are increasingly comprised of Treasury issues or higher rated credits.  Regarding interest rate risk, we are maintaining a modest duration target of 3 to 4 years.
Equity Strategy:  With a 30% stock gain now in the rear view the question of "too fast/too soon" is certain to come to investors' minds.  However, it is instructive to look at performance as a two year chapter, since a large component of 2019's performance was a snapback from the near-20% stock decline in the fourth quarter of 2018.  From this viewpoint stocks generated 12% annualized returns over the period, very reasonable given the massive boost to corporate profits from tax reform.  Great market years are no kiss of death for the ensuing one, either.  In 2010, stocks followed up the previous year's 26.5% return with a solid 15.1%.  Stocks gained 13.7% in 2014, most impressive given a 32.4% return in 2013
Looking forward, we must issue a hot button alert, as the greatest danger we see for equities is political.  On this front we have no agenda; our mandate is solely the maximization of return within a risk-constrained framework.  Here, political risk is unusually high, and in the interest of full disclosure it requires discussion.  Love him or hate him, Donald Trump's key accomplishment in the eye of the stock market is corporate tax reform.  Although it has been a budget buster, lowering the corporate tax rate has boosted profits in perpetuity, and discounted future profits are the core of a stock's valuation.  The prospect of a progressive political tilt commensurately increases the odds of repeal of the tax cuts, and the market absolutely detests the prospect.  Incumbent presidents during economic expansions rarely lose, and our base investment case is for four more years.  This is by no means a lock, though, and our eyes will be increasingly fixed on the political barometer as we approach November.  Increasing odds of a leftward political bent will weigh on stocks – particularly within the healthcare sector.
Asset Allocation:  We have targeted an overweight position in stocks in balanced portfolios for the duration of the current bull market.  This decision has been proven correct, as stocks have outperformed bonds in 9 of those 11 years, posting a cumulative annualized return of 14.7% versus 4.0% for bonds: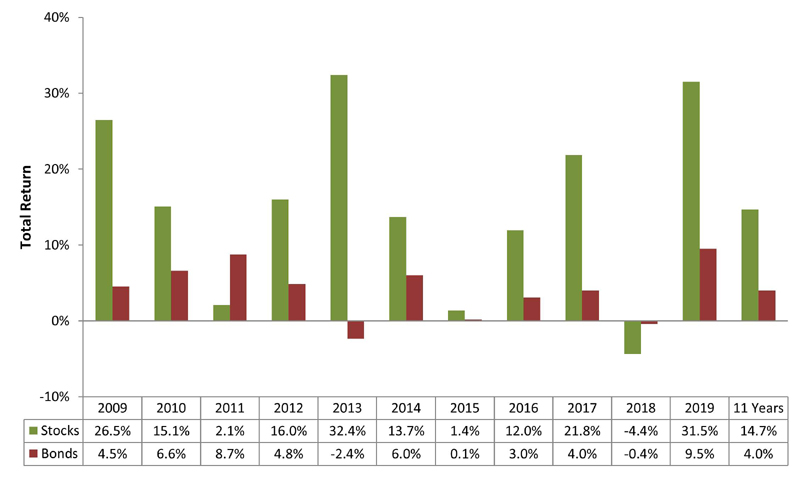 For the majority of the expansion, discussion has been dominated by how expensive stocks are, and this is one of the most unloved bull markets of all time.  Our model values stocks relative to bonds and has been effective at drowning out the noise.  Bonds have been priced to reward only in the event of outright economic stagnation, yet this has failed to materialize.  The odds for a 2020 recession have declined to 20% or less, and we have the confidence to continue overweighting high-quality equities at the expense of incremental bond exposure.  Even should a recession emerge, the last 12-18 months before a recession are generally rewarding for stockholders, with an average historical return of 6.9%.