MARKET SUMMARY: The U.S. economy grew at a staggering 6.4% rate in the first quarter of 2021, and all indications are that the pace has accelerated in the second quarter. Coupled with COVID cases falling to only one-tenth of their peak, it was an easy recipe for a euphoric melt-up for stocks. Indeed, stocks enjoyed a tremendous second quarter, with the benchmark S&P 500 Index gaining 8.6%. This boosts the year-to-date total return to 15.2%.
Although we are grateful for the stock market's generosity, one troublesome pattern has re-emerged. Despite inflation running at a 5% annual clip the Fed's continued reassurance of "patience" has allowed longer-term interest rates to decline once again. For example, the 10-year US Treasury yield has declined from 1.75% in March to less than 1.5%. This has a significant effect on the pricing of growth stocks, and the Big Five Technology group (Apple, Microsoft, Amazon, Google and Facebook) has emerged from their recent slumber to once again reign as the market's star performer. Beyond that select group, performance is broad based this year, with only a 2% discrepancy between growth and value shares.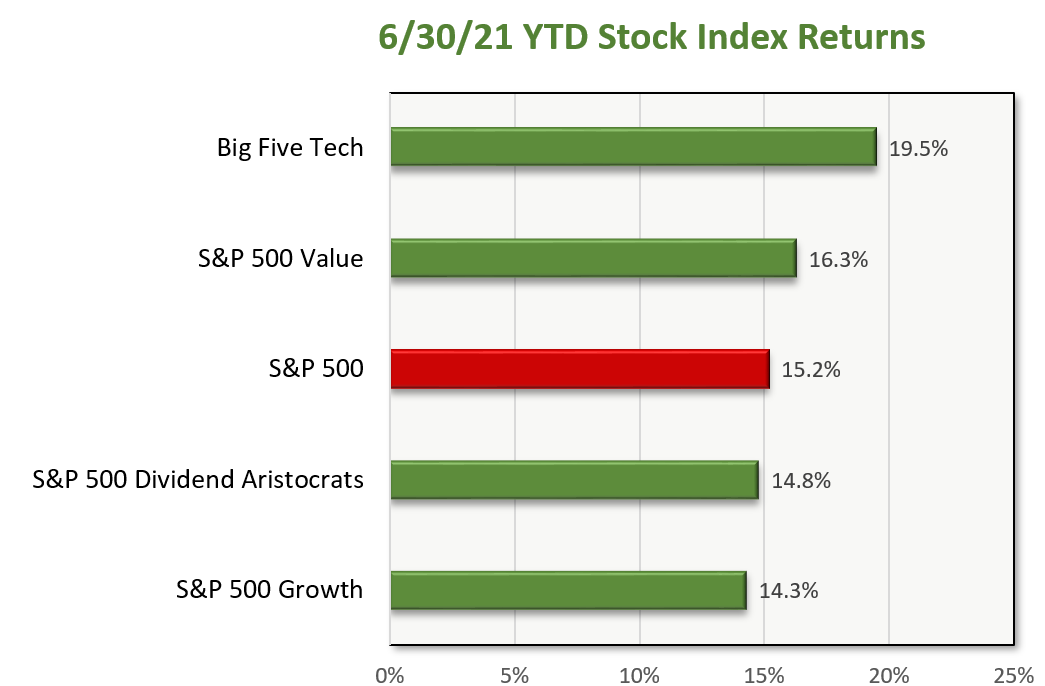 Due to the inverse relationship between bond yields and prices the Barclay's Government/Credit Index managed a quarterly gain of 2.4%. However, interest rates are still significantly higher than at the beginning of the year, resulting in a year-to-date decline of 2.0% for the Index through June 30. We have long been prepared for rising interest rates, and due to our conservative positioning have managed to avoid most of the damage.
ECONOMIC FORECAST: The U.S. economy remains red hot in the second quarter, and the full-year GDP forecast is for 7% real growth – a level not seen since the height of industrial production during World War II. Employment gains accelerated during the quarter, with 1.7 million jobs added, 60% of which were in the hard-hit leisure and hospitality sector. We are now on pace to reach pre-pandemic employment levels by early 2022. As a result of improving employment and higher wages, consumer confidence soared during the quarter to pre-COVID levels.
While we see few signs of economic weakness, we remain vigilant as to how the inflation dynamic will ultimately play out. Consumer and business inflation indicators remain elevated at decade-level highs. The market consensus is for a steep run-up in prices over the next few quarters as supply chains come back online, and then a return to a healthy 2.5% level for inflation. We saw early evidence of this scenario playing out in lumber contracts during the quarter, with prices falling over 50% as home builders and consumers reduced spending on projects, bringing supply and demand more in line. Consumers have come to expect low levels of inflation, and we will get a better window into any changes to those expectations as employment and the economy fully recover.  Over the near term we expect above-trend growth for both the economy as well as inflation.
FIXED INCOME STRATEGY: The decrease in bond yields over the course of the quarter was surprising in light of the high inflation readings we have seen recently. Although the higher readings were expected due to the "base effect" (i.e., today's inflation is a result of the "base" of very low prices last year), the reaction of the bond market is a bit surprising as bond investors typically tend to be skeptics when it comes to inflation.  The phenomenon has extended beyond Treasuries even into the junk bond market where the average yield for sub-investment grade debt is now less than inflation – a scenario only seen during the high inflation years of the early 80's.  We suspect three factors are at work: 1) lower interest rates in Europe and other parts of the world that have forced foreign investors to purchase relatively attractive U.S. bonds, 2) possible concerns over a softening economy and 3) at least in the case of junk bonds, the TINA trade ("There Is No Alternative").
The Fed, of course, looms very large, having announced in June preliminary discussions of tapering mortgage-backed bond purchases. Low rates continue to drive an exceptional housing market, and an increase in mortgage rates would provide a moderating effect. Strong economic activity and ensuing inflation should ultimately force the Fed's hand. Thus, we continue to believe that higher rates are not a question of if, but rather when. Accordingly, we are maintaining very conservative duration positions and are concentrating on the front end of yield curve with new purchases.
EQUITY STRATEGY: The equity market continued its upward march during the second quarter, with leadership rotating from value and back into growth-oriented shares. Since last fall, value shares had enjoyed a run as benefactors of the "reflation" trade since many of the issues are economically sensitive.  However, in the second quarter the S&P Pure Growth index (the fastest growers within the S&P Growth index) vastly outperformed the comparable Value index, posting a 12.3% return versus 4.9% for value. The S&P 500's overall return was also skewed by the mega-cap FANG stocks as investors began to doubt whether the reflation trade was sustainable.
Investors will continue to grapple over the coming months in determining which companies will benefit in a post-COVID environment. Concerns have emerged that we have reached peak growth and fears the Federal Reserve will act too soon have many questioning if value shares can return to leadership. We contend that the reflation trade should have further to run. First, analysts have underestimated companies' earnings strength, as demonstrated by four consecutive quarters of record earnings beats versus expectations, and growth tends to outperform when earnings growth is a scarcity in equity markets. Second, growth needs low interest rates to support their higher valuation ratios.  Also of note, interest rates are almost certainly suppressed by central bank bond purchases, which will likely abate over the coming quarters as the Fed begins to take inflation seriously. Ultimately, we should continue to be rewarded for our emphasis on reasonably priced equities which will benefit from a recovering economy.
ASSET ALLOCATION: Our long-standing decision to overweight stocks, combined with very successful security selection on both the fixed income and equity components of the portfolio, have led to stellar investment performance for the first half of the year.  Looking ahead, the main inputs when determining the proper asset allocation mix are our economic forecast and the current equity risk premium. As discussed, the economic outlook is most supportive for stocks and the market rarely enters bear territory in the absence of a recession. Regarding the equity risk premium, our 6/30 update was historic, as it revealed the widest discrepancy between expected return for stocks and bonds we have ever encountered: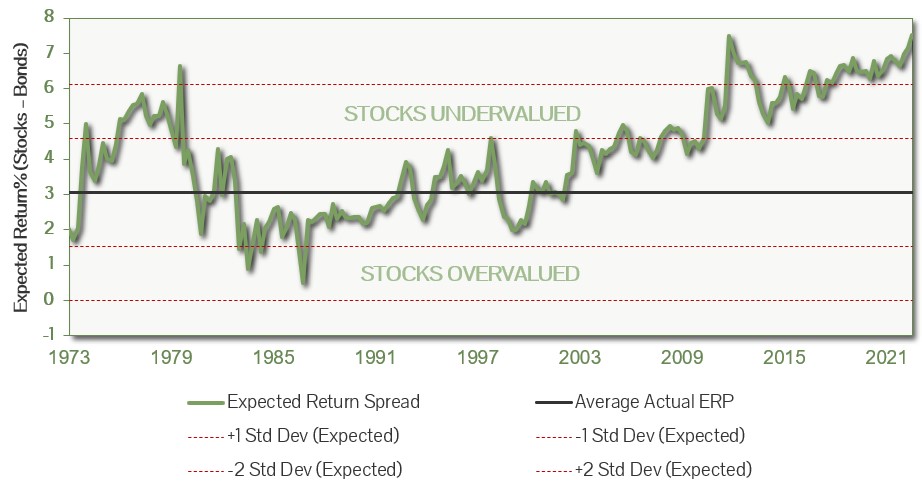 Given both the direction and magnitude of the two inputs, it is no surprise that we continue to overweight stocks in balanced portfolios. However, rest assured we remain committed to our responsibility as risk managers. As such, we are tempering risk on the equity side of the portfolio by focusing on consistent earners with proven dividend streams. On the fixed income side, we remain extremely defensive regarding interest rate risks and are maintaining a very conservative maturity structure.  The markets may be a bit choppy in the waning summer months, but we expect further success this year as we work our way towards the end of 2021.