One of the most trusted Wall Street axioms is "don't fight the Fed", as it is backed by a convincing historical track record.  It refers to aligning one's investment strategy with the monetary policy of the Federal Reserve.  In this instance, their policy stance is jaw dropping in scale, and is one of major factors in the stock market's recent 31% rebound.  For perspective, the U.S. is a $20 trillion economy and the Fed has already announced $2.3 trillion in lending.  Keep in mind this is only around half of the ultimate authority given them by the CARES act, and does not include the $2 trillion relief package coming from Congress.  Below is a breakdown of the Fed's new tentacles:
Primary & Secondary Market Corporate Credit Facilities provides $750 billion in credit to the investment-grade corporate bond market. This was expanded to include "fallen angels" (formerly investment-grade credits that have recently been downgraded to "junk").  The end result has been a pronounced thawing of the credit markets, enabling investors to divest bond holdings and divert to the stock market.  This has been a major factor in the recent bull move for stocks.
Main Street Loan Facilities allow $600 billion in loans to companies employing up to 10,000 workers.
Municipal Lending Facility permits $500 billion purchase of municipal bonds, and has had a similar calming market effect as their corporate facilities
Paycheck Protection Program Liquidity Facility supplies $350 billion in liquidity for small business loans.
Term Asset-Backed Securities Loan Facility enables the issuance of $100 billion in asset-backed securities to keep funding available for student, auto and credit-card loans.
The economy is clearly very sick, and corporate profits will likely suffer through the end of next year.  However, a Fed injection of as much as 20% of the economy is very powerful medicine.  We believe it would be an unwise investment decision to deny the historical precedent and choose to fight them at this juncture.
In addition to continued slowing in the growth rate for new COVID-19 cases, we received news on Thursday that Gilead Science's experimental drug remdesivir has shown great promise in early clinical trials.  Of the 125 patients in the trial, 113 had severe respiratory issues, yet only two died and most were able to leave the hospital in less than a week.  The trial lacks a control group and did not include patients on respirators, but it is extremely encouraging nonetheless.  From an investment standpoint, the headline buoyed the Dow by 700 points on Friday.
Assuming remdesivir and other treatments significantly bend the virus' death rate, the remaining pillars necessary for a reopening of the economy and ultimately defeating the virus are a more inclusive and speedy testing regime and a vaccine.  Our best hope for a vaccine is currently from the labs at the University of Pittsburgh, but we will probably not find out the winner until next year.  We have made progress regarding testing, but much work remains.  As seen below, the U.S. has increased its testing rate to 1 in 96 Americans, but we lag many of the Europeans by a 2:1 ratio.  We do expect quick progress in the coming few weeks, though.  Meanwhile, we pity the Brazilians, as their president seems to be wearing his mask over his eyes.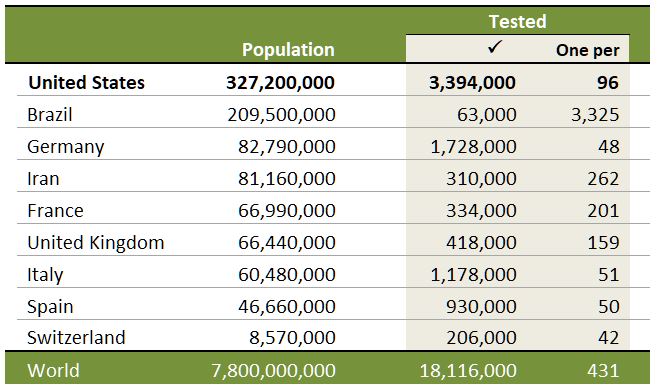 We close on a positive note, as on a recent dig through the CDC archive we unearthed a side effect from quarantine and sanitation that we believe is newsworthy.  Below is reprinted from their report on the 2019-2020 flu season:
Nationally, the percent of laboratory specimens testing positive for influenza at clinical laboratories continued to decrease and is now low.
CDC estimates that so far this season there have been at least 39 million flu illnesses, 410,000 hospitalizations and 24,000 deaths from flu.
The flu season typically ends in April, and assuming the total deaths do not climb much from the 24,000 indicated it would be a sharp improvement – in the 2018-2019 season there were 34,200 deaths, and in 2017-2018 there were 79,400.  You cannot trade one life for another, but the lives saved from the flu by social distancing may provide a significant offset to COVID-19 fatalities.
---
We are humbled by the positive response from our series of reporting, but feel that the situation is now stable enough to allow us to return to our normal communication schedule:
Next week we will deliver our quarterly Market Commentary, focusing on our economic forecast and resulting investment strategy.
Our monthly economic summaries and periodic topical studies will continue to be posted to this section of our website.
Depending on the situation, we may issue a special update if necessary.
We are thankful for your continued trust in CCM Investment Advisers.