The CCM Model Equity Portfolio is the key component for managing the stock section of client portfolios.  The Model serves as the most crucial input into the CCM Total Portfolio Management System (TPMS), as it is used as an "overlay" to generate the necessary trades for client portfolios to conform to our current equity investment strategy.  As conservative investment managers CCM manages risk first, and proper diversification is one of our primary tools for minimizing risk.  As such, the Model averages fifty positions, with an average individual security weighting of just two percent.
Unlike most advisory services who blindly manage portfolios using software-generated trades, CCM portfolio managers review each of our client portfolios individually using the TPMS.  As opposed to an algorithm, this holistic approach considers variables such as tax status, income preference, or risk tolerance.  Since each portfolio is separately managed, portfolio positions may vary (particularly for taxable portfolios with embedded taxable gains).  As a result, we offer the disclaimer that individual securities and strategies discussed below may occasionally deviate from the actual positioning in some client portfolios.
Equity managers come from a large variety of camps.  The most common factions include large-cap/mid-cap/small-cap, growth/value and domestic/international.  Importantly, managers also differentiate themselves as "top-down" or "bottom-up" strategists.  A top-down strategist develops an economic forecast and then assembles an equity model to match the forecast (e.g. a recovery is expected so the manager emphasizes early-cycle winners such as finance, consumer discretionary, industrials and technology).  A bottom-up strategist filters their pool of investible securities and buys what they deem to be attractive, depending on their strategy.  Both approaches have their merit, but in our view are limited and short sighted.  At CCM we use a hybrid of both of the approaches and assemble a model portfolio of attractively priced securities that is consistent with our economic outlook for both the short and long term.  We consider our approach a bottom-up approach with a clear view of the top.
Economic forecasting is always a challenge, but formulating an accurate top-down expectation for 2021 in the midst of a deadly global viral outbreak is nearly impossible.  At this juncture we would be satisfied with merely a correct directional call for the economy.  Recent research has been brimming with a variety of descriptive shapes for the future path of the economy – a quick "V-shaped" recovery, slower "U-shaped" rebound, "W-shaped" double-dip recession and recovery, or the "Nike swoosh", with the economic cataclysm of the first half of 2020 followed by a grindingly slow revival.  Even after the massive amount of fiscal and monetary stimulus to date, the best odds are for the latter.  The economy should return to growth in 2021, but there is a high probability it won't peak again until later in 2022.
While the top-down outlook for the economy is undeniably hazy, we have identified some probable post-pandemic themes that will have important investment implications:
The new normal of work-from-home should prove to be a sticky proposition for many employees. This should provide long legs for the technology group, particularly the Big Five trade (Facebook, Amazon, Apple, Google and Microsoft, aka FANG) that has so dominated 2020 stock performance.  It will also allow corporations across the board to tighten their expenses (e.g. rents, travel and entertainment).
Airline travel will be dampened for the foreseeable future. There is even the grim prospect of a string of bankruptcies, not to mention the possibility (albeit remote) of nationalization such as is seen in Europe.
At the margin, we expect consumers to save more and spend less. While an economic detriment, for investors this does hold the positive long-term consequences of lower interest rates and higher stock market valuations.
Experience-based entertainment will be preferred by consumers -particularly when socially distanced. This has already manifested itself in a sellers' market for vacation homes, long wait times for recreational vehicles, sold-out boat dealers, and the near nonexistence of bicycle inventory.  Consumption of traditional hard and soft goods will suffer in turn.
Even should a vaccine arrive in the coming months, the situation is already desperate for the retail and restaurant groups, and we expect a growing wave of bankruptcies in the near term. Since retailers and restaurants employ roughly 44 million in the U.S., the end result is 28% of the domestic workforce being at risk.  This is a key reason we tend towards the "Nike swoosh" visual for the U.S. economic outlook.
With China-based supply chains in question, demands for just-in-time e-commerce delivery and a pool of educated and motivated workers in the U.S., resurgence in domestic manufacturing is likely. The trading of lower-income retail/restaurant positions for manufacturing gives us optimism.   As an example, witness the recent 25% wage gains in the Wisconsin areas affected by the arrival of Foxconn.  Two of these areas are ranked first and fifth nationally for income growth.
The trend towards an older U.S. demography will continue. The result will be a further bias towards savings versus consumption, as well as increased demand for health care.
While the health care group has the wind to its back due to aging demographics, politics holds great sway. Regardless of who wins the upcoming election, it is very unlikely the Affordable Care Act will be repealed, which is conducive for the sector as a whole.  However, the pharmaceuticals group has a target on its back from both parties.  On the other hand, both parties agree that increased efficiencies are needed in healthcare, and we expect growth in both telemedicine and electronic record sharing.
ESG investing (Environmental, Social and Governance) has already amassed $1 trillion in assets, and the trend will continue. Firms with strong balance sheets and quality management teams will be able to adapt to constraints required from ESG-friendly pensions and endowments to meet increasingly strict investment criteria.
With interest rates currently so close to zero and the U.S. economy rebounding we expect rising interest rates. However, economic growth will be spotty and the world is awash in liquidity, reducing the odds of a destructive spike in yields.
With the top-down picture framed out we move on to our bottom-up research.  Here, CCM relies on the same concept of relative valuation that drives our asset allocation system.  CCM sorts and screens the top 1500 stocks using our CCM Securities Valuation Model (SVM), a five-factor valuation model that ranks each security versus its peers.  Since studies show that timing the stock market is not possible over the long run, we believe in remaining completely invested in equity portfolios.  We therefore select stocks that are inexpensive relative to their peers to eliminate any bias during times such as today when stock valuations are stretched.  A good example of the concept is O'Reilly Automotive, which was added to the equity model in March.  O'Reilly currently trades at a 22X forward price/ earnings multiple, which admittedly appears a bit expensive given its earnings growth rate.  However, the P/E for its industry (consumer discretionary) is over 26X.  From a relative perspective it is therefore cheap – particularly so after factoring in top-down variables such as the aging U.S. auto fleet and the desire for increased automotive versus airline travel.
After the top-down and bottom-up work is complete, the result is the CCM equity model.  Currently, the model is comprised of 54 individual securities diversified across eleven industry groups as defined by the Global Industry Classification Standard (GICS).  CCM routinely over- or underweights certain industries based on economic expectations and/or valuation concerns.  With a sketchy economic outlook and equity valuations running rather high for most issues, we are a bit uncommitted with our present industry calls.  As seen in the chart below, our only overweight of real consequence is in healthcare, due to both the demographic trend as well as very attractive relative valuations.  We have also recently become light in technology exposure, a result of the pronounced effect Big Five technology has had on sector weightings, as well as our memory of the last time the S&P 500 traded in excess of 20 times earnings – the disastrous tech bubble in 2000.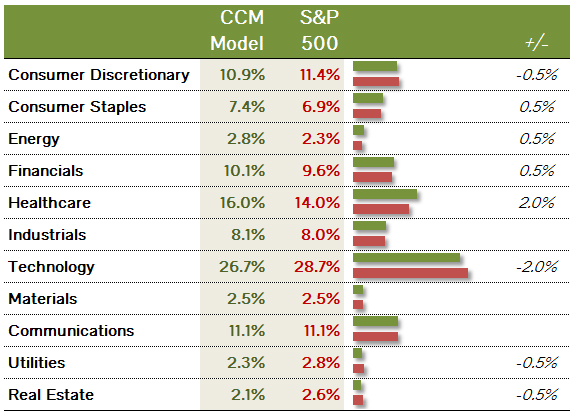 Using the S&P GICS industry designations as a roadmap for discussion, we offer some points on our prevailing strategy at both the industry and security-specific levels:
Consumer Discretionary:  After a run this year of 87%, Amazon now comprises 50% of the entire consumer discretionary sector.  Its valuation is presumptuous, with a forward P/E well over 100X.  However, Amazon is a textbook example of a pandemic survivor.  Due to our diversification mandates we cannot match the 5.6% index weighting for Amazon, but it is a core CCM holding.  Other holdings include the aforementioned O'Reilly Automotive, and Home Depot as our only "big box" retailing play (a huge winner from the "nesting" phenomena since the lockdown began).  We are avoiding the losing restaurant group, and our only soft goods retailer is the discounter TJ Maxx.
Consumer Staples:  The consumer staples group is historically considered both an economic defensive as well as a solid income play.  Valuations are a bit frothy, but the group's 2.6% dividend yield is enticing in a world of zero interest rates.  True to our conservative bias we are maintaining a slight overweight.  Walmart Stores and Procter & Gamble are core holdings.
Energy:  At one point during the peak of the crisis oil traded for a negative price, so it is not surprising it has been a terrible year for energy stocks.  It is by far the worst performing industry for 2020, with a decline of 39%.  After the sell-off we have moved our underweight target back to just above market, but it is a bit inconsequential, as the group has nearly evaporated from the S&P 500.  Ten years ago energy comprised almost 11% of the S&P 500 and Exxon was the world's most valuable company.  Today, energy's share is only 2.3% and Exxon was removed from the Dow Jones index on August 31.  As a result of fracking oversupply, the rise of ESG investing and the trend towards renewables we are long-run energy bears.
Financials:  For investors the health of the finance sector typically reflects the shape of the yield curve.  With the yield curve so flat (i.e. long-term rates barely higher than short-term rates) it is most unconducive for bank profit margins.  According to the FDIC, bank profits declined 70% in the second quarter, and not surprisingly, financials are the next-to-worst performer for the year.  Our formula for weathering the storm is a diversified mix of insurance companies (Allstate and Chubb), leading money center banks (Bank of America and JP Morgan) and a quality regional in PNC Financial Services.  Valuations are becoming compelling across the board, and we are beginning to consider some possible additional exposure.
Healthcare:  We have maintained an overweight position in healthcare for quite some time, and this year we have again been rewarded.  Although we are a bit leery of big pharma, 3% yields from marquee names such as Bristol Myers and Merck capture our attention.  On the COVID front, we have profited from Gilead Science due to their Remdesivir treatment option, as well as a 32% gain from Thermo Fisher Scientific from their testing technology.  UnitedHealth Group has been another strong performer with a gain for the year of 7%.  Although slow out of the gate, new addition Cerner is a leader in healthcare information technology, an area that should grow rapidly over the coming years.
Industrials:  The industrials sector has been difficult to tread this year.  As one of the more internationally focused S&P industries the shares have been trimmed along with global economic expectations.  We have made tidy profits in Eaton and Lockheed, though, and have enjoyed relatively strong performance with Caterpillar.  After the recent decline in the U.S. dollar the entire group should gain competitive advantage, and valuation is attractive.  We are now slightly overweight in exposure.
Technology:  Technology has almost singlehandedly driven the market in 2020.  The group now represents 28.7% of the S&P 500, and when combined with communications services and Amazon, this broader definition of technology stocks is over 45% of the entire index.  Although valuation is a concern for all of the Big Five members, the power of their business models are not, and we maintain positions in both Apple and Microsoft in the tech sector.  We have also had great success with internet software company Adobe Systems.  In the semiconductor space, instead of succumbing to the demand whims that tend to whipsaw specialty chip shares, we have chosen to participate by investing in semiconductor manufacturing equipment.  There, Lam Research has again had a home run year.  Traditional "value" names in technology such as Cisco and Intel have had a disappointing 2020, though, as the group has not been "growthy" enough for the speculative feeding frenzy.  They are attractive for those with a preference for income, though, offering yields around 3%.
Materials:  With the increasing dominance of technology, this is the second of the four S&P industries holding only a 2 to 3% capitalization share of the S&P 500 index.  Although it is very small, it is very diverse, and in the interest of diversification we are targeting two holdings in materials.  We entered International Paper on expectations they would ride the e-commerce shipping boom.  However, the company is now testing our patience and we are examining alternatives.  Typical of the fragmented nature of the sector, Sherwin Williams has been a tremendous success, benefiting from the new normal move towards "nesting".
Communications Services:  The communications services group is dominated by Big Five tech, with 56% of the entire group's capitalization consisting of Alphabet (the parent company of Google) and Facebook alone.  We hold positions in both, along with Walt Disney in the entertainment space and Comcast and Verizon in telecom.
Utilities:  Once the mainstay of "widows and orphans" investors, the group has shrunk to less than 3% of the S&P 500.  Since utilities are an interest rate sensitive sector we are underweight, as the most likely path for interest rates is up.  The group has been an S&P 500 laggard this year in terms of performance.
Real Estate:  Along with energy, materials, and utilities, real estate is the final member of the "micro industries" of the S&P 500.  As with utilities, the group is interest rate sensitive and not very appealing to us.  Fortunately, the one selection we can fit into such a small group, Digital Realty, has been on a tear this year by riding the cloud storage wave.  The stock has gained 32% for the year.
Since we are conservative managers who focus on relative valuation it is no surprise that in the end the CCM Model Portfolio is less expensive than the market, with a forward P/E ratio of 21.7 versus the S&P 500 P/E of 26.3.  We are sacrificing some expected future earnings growth, but feel the sacrifice is warranted given how far the market has run in such a short amount of time – particularly for the select group of securities that have led the market in 2020.  This cautious approach results in a higher dividend yield than the market, at 2.0% compared to 1.8% for the S&P 500 index.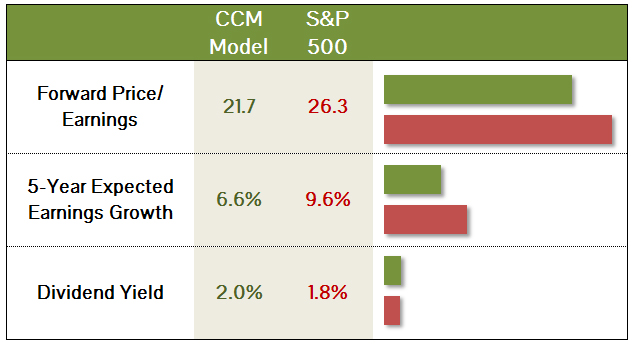 All data cited as of 8/31/20.  Data sources:  Bloomberg and Thomson Vestek Systems.