Market Summary: The first quarter was a tale of two markets, with stocks setting a series of new record highs through February 19 and then plummeting nearly 34% in just over a month. The obvious cause was the arrival of the coronavirus, which brought with it a fear of the unknown that we have not seen since the financial crisis of 2008-2009. There were periods where the descent seemed bottomless, with the S&P 500 cratering 12% on March 16 alone. It was the second worst day for the market in history.  In the end, the S&P 500 finished the first quarter with a decline of 19.6%.
The market bottomed on March 23, as signs emerged that the growth rate for the virus was being checked by social distancing. Since then, stocks have rebounded 29%, bringing the year-to-date decline for the S&P 500 index to 11.7% as of April 24. However, the Index return is weighted by each company's market capitalization and has become increasingly skewed by the performance of the largest stocks. We have written of this phenomenon on multiple occasions, but it has become so prevalent this year that the S&P 500 greatly overstates stock market performance.
A better gauge for stocks in this environment is perhaps the equal-weighted S&P 500 index, which is simply the average return of the stocks that comprise it. While the result is accurate, it is not pretty, as it reveals a 26.7% decline in the first quarter and a 20.2% decline through April 24. The 8.5% YTD performance gap between the two versions of the indices is historic, and is indicative of how dominant Apple, Microsoft, Amazon, Google and Facebook have become in today's market. Together they comprise 20% of the S&P 500's capitalization, and individually they are often bigger than entire S&P industry groups (red bars below):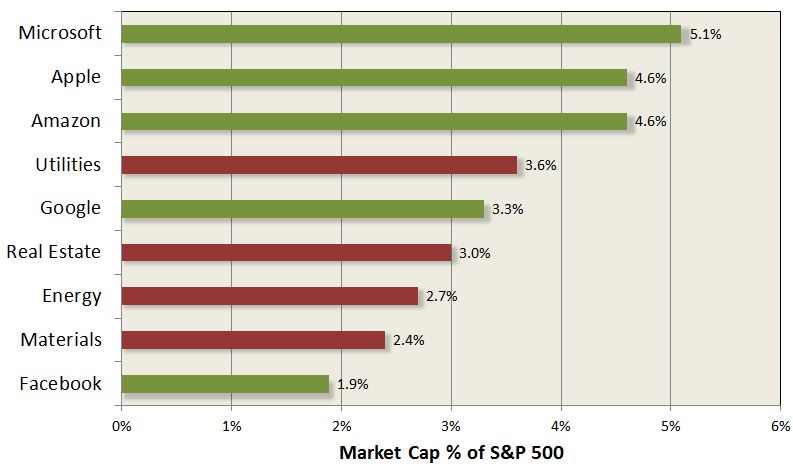 The bond market is a traditional safe haven in times of crisis. For Treasury issues, the arrival of the coronavirus led a textbook example of such, with the yield on the 10-year Treasury bond declining to an all-time record low of 0.31% on March 9. While Treasuries rallied, the corporate and municipal bond markets came frighteningly close to seizing up. Even after recovering a bit before quarter's end, high-yield energy bonds paid in excess of 21% and high-yield corporates over 9%. Thankfully, the Federal Reserve learned from its experience in 2008-09 and quickly brought shock and awe tactics to the battlefield this time. We are relieved their massive liquidity injections eased conditions significantly.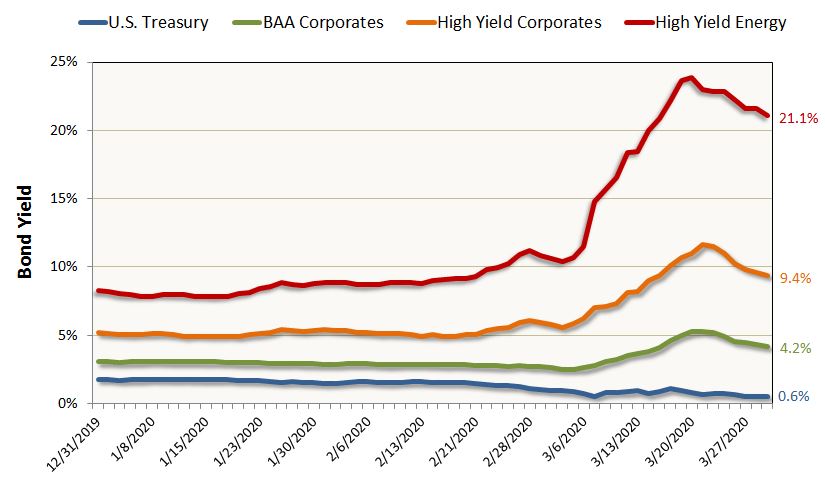 Economic Forecast: The ancient Stoics used an exercise called the "premeditation of evils," where they imagined worst-case scenarios to prepare themselves for the uncertainties of life and battle. Modern economists performing this exercise at the start of 2020 would never have conjured a scenario of a global pandemic and the shuttering of 80% of the US economy with damage including:
roughly 17% of the U.S. workforce filing for unemployment benefits
retail sales off 8.7% in March, the largest percentage drop ever
industrial production dropping 5.4% in March, the most severe one-month decline since 1946
automobile manufacturers' output down 28% in the first quarter
WTI oil contracts for May delivery settling at negative $37.63 on April 20th, the first drop ever below $0
It is impossible to forecast an economic timeline in such a period of uncertainty. What we do know is although the shutdown has put severe pressure on the private economy, the epic government response has at least stabilized the financial markets. We are gaining some confidence, and markets confirm that the U.S. economy has avoided the worst-case outcome. However, this does not preclude a tumultuous road to recovery for the real economy. We simply do not know how quickly and to what extent consumers and businesses will return to their previous levels and patterns of spending and investment. Traditionally there is a positive relationship in the length of a recession and the time it takes to return to growth, yet we have never seen a downturn of this magnitude. However, we are the world's reserve currency and control the printing press, so we are optimistic that the government will continue the needed support until we can fully restart the U.S. economic engine.
Fixed Income Strategy:  The Barclay's Gov't/Credit Index returned 3.4% in the first quarter, with losses in the credit sector being offset by outsized gains in government bonds.  Federal Reserve intervention in markets, while necessary, has reduced nominal Treasury yields to all-time lows. Real yields (inflation-adjusted) have fallen below zero, leaving investors with few options to earn an acceptable return. We are adding incremental exposure in high-quality corporate issues with one- to three-year maturities, as they offer the best risk-reward trade-off within our investable universe. We are closely watching the credit quality of holdings with the economic downturn putting such a strain on company balance sheets. We were largely prepared for the crisis in advance, as we began increasing the credit quality of portfolios last year as spreads narrowed to multi-year lows.  We feel confident with our current mix of credits.
Equity Strategy: Each of the five technology behemoths that dominate today's market is a core CCM holding. Valuations are admittedly quite rich, with their forward P/E inflated to 34X, but we remain in awe of each of these companies. With their lockdown-friendly business models and mountains of cash, they are uniquely prepared not to just survive in an economy throttled by the coronavirus, but to thrive. However, we are concerned that investors have been irrationally exuberant in pushing the group up 5.1% for the year (with Amazon up 30%). This belies logic, as their earnings will almost certainly suffer along with everyone else.
The irony is that even though we hold positions in Apple, Microsoft, Amazon, Google and Facebook, our risk management discipline precludes us from placing 20% of a portfolio in just five stocks – even though the result may be a performance lag versus the cap-weighted S&P 500 index. Despite that constraint, we have generated substantial relative strength compared to the equal-weighted index. Having exposure to the big five tech stocks has certainly helped, but we have also had success in individual positions such as Walmart, Baxter, Gilead and Digital Realty. In addition, we have benefitted from a strategic overweight in the healthcare sector, the top-performing industry group this year.
Asset Allocation: As we discussed in a recent update, analysts are well behind the curve in updating their 2020 and 2021 earnings estimates. In fairness, it is not an easy job, as 80 of the S&P 500 companies have completely withdrawn their guidance. Regardless, expected earnings are a crucial element in our asset allocation system, and since we believe the figure is errant, it would be highly irresponsible to blindly rely on the valuation model's current output. When combined with record-low interest rates, the result would be "all in" equity exposure in balanced accounts. Thankfully, the asset allocation decision can be made with a decision tree rooted in common sense. Although they are a less risky option, bonds offer almost no other attraction whatsoever. The only real alternative is stocks, but the market is on tenuous footing (to say the least). Therefore, a modest plus-10% weighting in high-quality stocks tempered with a defensive fixed income portfolio is a comfortable middle ground for a conservative investment manager such as CCM.