We were rewarded last week with long-awaited evidence of hope in both the fight against the coronavirus as well as for the prospects for the economy and markets.  Highlights included the stock market's best week since 1974, a pronounced calming in the credit markets, another massive injection of Fed stimulus (this time to the tune of $2.3 trillion) and Dr. Anthony Fauci slashing his U.S. fatalities forecast to 60,000.
We are hopeful that last week will be remembered as an important milestone in the coronavirus battle, as the data suggest an important turn.  Each morning we receive comprehensive reporting on the outbreak from the research team at TrendMacro.  As you can see from their chart (headline graphic above), perhaps the best news of the week was a noticeable leveling in the new case curve (red line).
The most obvious changes in slope were seen in Italy and Spain (charts below), with their number of new cases hitting two-week lows. Since the U.S. lags these early-afflicted by ten days or so, this may provide a clue for our path forward.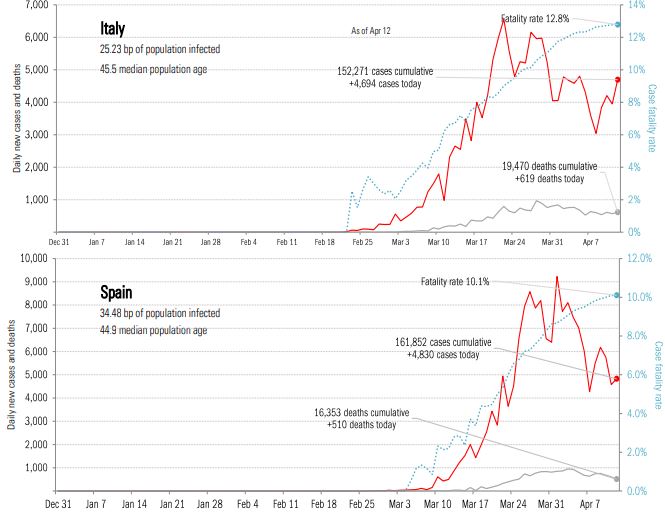 Although the U.S. is late in the virus' progression, we lead the world with over 500,000 confirmed COVID-19 cases. New York City is again ground zero, and the state contains a third of total U.S. cases.  Thankfully, a decreasing case rate in N.Y. is becoming apparent only three weeks since their viral onset (chart below).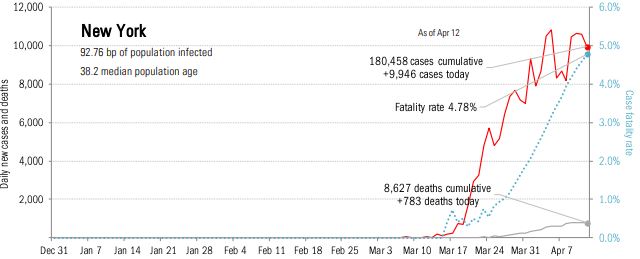 We are by no means calling a top for the spread of the coronavirus, but it is reassuring that social distancing appears to be squelching its potential for exponential growth. There will be more dark days to follow, and since the fatality rate is a lagging indicator, daily morbidity records are surely soon to fall.
We will not truly be in the clear until testing makes further advancements and a vaccine ultimately emerges. Last week we mentioned Abbott Labs' new rapid COVID-19 test as a game changer, and CVS has already announced the opening of two new drive-thru coronavirus testing locations.
We have noticed little news regarding an antibody test. This would be important in allowing those who have recovered from the virus to return to work (and exceedingly beneficial since perhaps 50% of cases are asymptomatic and are unreported).  However, there is nothing that is particularly reliable at present and we are likely weeks away on this point.
Perhaps the most positive virus news last week came from the University of Pittsburgh. Surprisingly, their release has not had stronger legs in the press, as the university was where Jonas Salk developed the polio vaccine.  The news is of a coronavirus vaccine that has shown great promise in a lab, with strong antibodies emerging in two weeks.  The vaccine can be easily administered by a bandage-type device that does not require refrigeration, enabling a quick global rollout.
The S&P 500 had an exceptional week, gaining a whopping 12%.  The market is now off only 13.2% for the year – a rather modest loss given the severity of the exogenous shock.  In a testament to the magnitude of the market's swing this year, stocks are now 18% below their February record high and 27% above their March 23rd low.  On a short-term basis the market rebound may have gotten a little ahead of itself, but the longer-term outlook is fairly constructive.
The future for the stock market depends on expectations for future earnings. Here the crystal ball is very cloudy.
Earnings expectations come from Wall Street's army of stock analysts. The typical analyst is of Ivy League pedigree, but is typically only in their 20's or 30's.  As such, some on-the-job timidity is to be expected, and they generally await cues from company management instead of bravely slashing their earnings estimates.  This creates a timing lag (particularly with work at home policies in place), and we believe their expectations for S&P 500 profits are woefully behind the curve.
Wall Street has cut their collective per-share S&P 500 profits estimate to $157 in 2020 and $177 in 2021. This is a pipedream, as it only results in a 9% cut for 2021.  Clearly more near-term economic damage has been inflicted than that.
Ed Yardeni and his team have been our trusted research partners for over twenty years, and they are cut from our same conservative, pragmatic cloth. Yardeni Research is projecting earnings of $120 a share this year and $150 for 2021.  This is an almost 20% reduction for next year's earnings and seems much more realistic to us.
Using $150 per share figure as an earnings expectation results in the following S&P 500 price moves at various price/earnings multiples (X axis):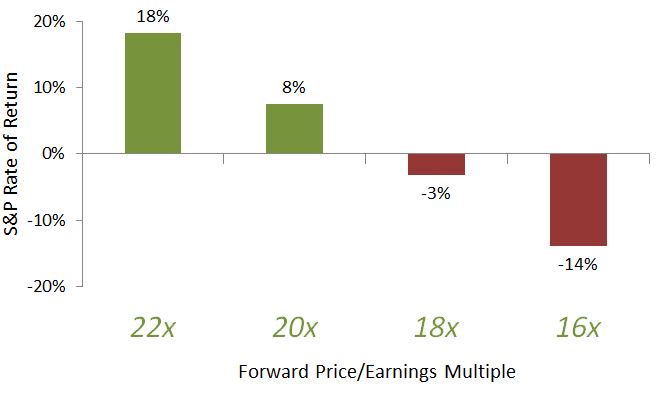 The relative nature of the stock and bond markets lies at the heart of our asset allocation system. Given the unbelievably low level of U.S. interest rates (U.S. 10-Year Treasury yield of 0.76%) there is no real attraction for bonds.  Combined with the stock market's tendency to look well into the future (where the real economic recovery awaits), the result is the very distinct possibility of higher price/earnings estimates than we were accustomed to prior to the market's decline.  Accordingly, we do not believe 20-22x is much of a stretch for P/E multiples, and are encouraged by the resulting 8-18% upside for stocks that is implied by this fairly conservative pricing model.
COVID-19 charts courtesy of TrendMacro and are reprinted with permission.